2k17 interhackerspaces xmas swap
From Frack - Hackerspace Friesland
Jump to navigation
Jump to search
| | |
| --- | --- |
| | Je kijkt naar een activiteit die in het verleden heeft plaatsgevonden |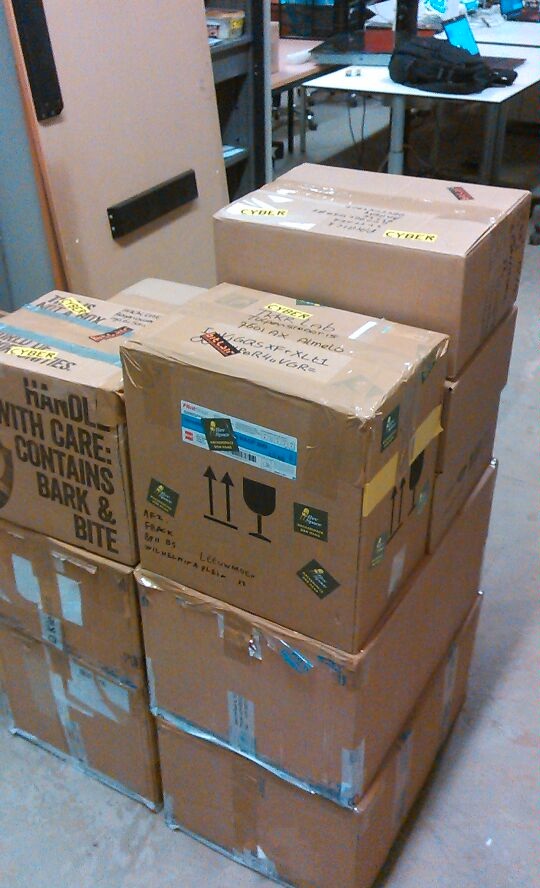 The great 2017 Inter Hackerspaces xmas goodies swap
Last two years Frack organized the Inter Hackerspaces xmas goodies swap, we had a blast!, about 15 hackerspaces signed up and send each other awesome boxes full of surplus little bits 'n pieces, personal projects, signed photos of their spaces. Make Magazine also pitched in an send us a copy of their paper magazine to distribute to everyone. Almost as soon as the first boxes started arriving, we saw the first Unboxing video's and pictures being posted, most spaces even made an unboxing event for the goodies they received. Given last years success we'd love to grow the pool of participating hackerspaces to include more spaces abroad too.
The idea:
As most hackerspaces have lots and lots of shiny little toys, tools and useful bits lying around, but usually there's more than one of each, where a single project might use just a single item. We thought it would be great idea to send gift boxes to other spaces sharing our love for hacking with them. Possibly inspiring them with project we have lost interest in, or stuff we simply don't know how to use effectively.
Lets share, lets make new friends and lets make this a tradition that delivers enthusiasm to all spaces around the globe like a tree with presents underneath it used to do all those years ago.
What could be put in a box
Monetary value isn't what we are looking for, its about sharing options, about sharing your space's projects or possible just inspiring other spaces to do something awesome with stuff you have a plenty but just can't figure out.
So, stuff like:
PCB's of custom projects
An usb-stick with pictures / details, sources from your space, maybe a little puzzle?
Little odd pieces of electronics that inspire great new projects.
Expensive (when bought) stuff that you have aplenty but other will probably never be able to get their hands on.
An invitation to your space, stickers, flyers etc from local hacker friendly places.
Your local foods, or the ingredients and a makefile
Possibly less than ideal stuff to receive
Computer parts that most spaces will have aplenty anyway
Huge machines (wont anyone think of the shipping costs)
Stuff that might break in transit
Want to participate?
We'd love (honestly we do) to ship stuff all over the world, and receive gifts from (new) friends all over the world in return. Outbound shipping costs will be something you'd have to pay yourselves, inbound should be covered, and for once If you ship abroad, make sure to mention its a Gift as it really is!
Pick a number of spaces of the list, at random, or by euclidean distance, we don't care, and ship them a gift box.
Who, what, deadline
Add your space's name, address and deadline to the list below.
Frack
Postal adress:
Wilhelminaplein 12
8911 BS
Leeuwarden, nl
Will ship giftboxes to all spaces signing up before 18th Dec 2017.
TkkrLab
Postal adress:
Rigtersbleek Zandvoort 10 (TkkrLab) <-- DO NOT FORGET TO PUT TkkrLab ON THE SHIPPING LABEL
7521 BE
Enschede, nl
Will ship giftboxes to all spaces signing up before 18th Dec 2017. (If possible)
NURDspace
Postal address:

Vergersweg 22-24
6707HT Wageningen

Will try to ship within 2017, max 8 boxes
Hack42
spider@hack42.nl
Shipping address (only for this occasion!):

MYPUP-Hack42
Edisonbaan 4
3439 MN Nieuwegein NL

Will ship up to 10 giftboxes to all spaces signing up before December 18th, 2017.
More radioactive waste this time.
Hal9k
contact: bestyrelse@lists.hal9k.dk
Will ship boxes to 6 randomly chosen participating spaces.
packages to:

Hal9k c/o Jesper Rosenkilde
Johan Skjoldborgs Vej 27
9200 Aalborg SV
Denmark
Randomdata
contact: info@randomdata.nl
Shipping address (only for this occasion!):

Randomdata / Fotowereld
Nachtegaalstraat 47A, 3581 AC Utrecht

Will ship boxes to 13.37 randomly chosen participating spaces, deadline 18-12
packages to:

57North Hacklab
Will send some (probably 5) boxes out around the middle of December. We haven't decided how we're deciding where they're going yet...
Address: 57N Hacklab, c/o Tom Jones, ERG - School of Engineering, Room 210, Fraser Nobel Building, University of Aberdeen, Aberdeen, AB24 3UE, UK
RevSpace
Postal adress:
Vlietweg 15
2266 KA
Leidschendam, nl
Will ship giftboxes to all Dutch spaces signing up before 18th Dec 2017.
Hackalot
Postal adress:
Mozartlaan 37
5654EK
Eindhoven, NL
Will ship small gift boxes (as we are a small, starting space) to Dutch spaces signing up before 18th Dec 2017.
Bitlair
Postal adress:
The S-Unit -- Bitlair
Atoomweg 63
3542AA
Utrecht, NL
Most of our stuff is still in boxes, we will ship mid-januari
Will ship gift boxes to spaces signing up before 31th Dec 2017.
Your space
Address, url, name, how many boxes you might want to ship, and where.
After you've received your gifts:
Plant a tree, watch it grow, and put all received boxes underneath it. Gather round hackers! Open the boxes, and describe on video/audio/wiki the contents and who gifted it to you.
List the wikipage / audio / video here for all to see!
Wiki pages
List your wiki page here.
Photos
Videos
List of projects included in the swap.
| Project Name | Description | From | Link | Picture |
| --- | --- | --- | --- | --- |
Last years
57 North hacklab ➡️ Frack:
https://www.facebook.com/hal9k.dk/videos/1425685364110641/
https://www.facebook.com/hal9k.dk/videos/1439269752752202/
https://www.facebook.com/hal9k.dk/videos/1439272566085254/
https://www.facebook.com/hal9k.dk/videos/1453048598040984/
RaumZeitLabor ➡️ Hacklabor
Frack and Bitlair ➡️ Hacklabor
57North Hacklab ➡️ Hacklabor